Information about
The Old Vicarage Campsite
Facilities
Our facilities are designed and built by us. They are simple, eco-friendly and provide the basic necessities for a comfortable visit. There is no charge for using any of the facilities.
Toilets Composting toilets. Not familiar with composting toilets? Don't let that put you off! Check our reviews to see how many people rave about them. They save water and are great for the environment. There's a urinal for the boys too.
Washing Up 2 basins with draining boards and hot water. Washing up liquid, scrubbers and elbow grease not provided.
Freezer Re-freeze ice blocks and cool stuff down.
Showers Free to use, plentiful hot water, big shower heads and no annoying push-button taps. There are walls and doors for privacy, but we've left the roof off giving you a unique uninterrupted view of the blue sky or stars at night.
Rubbish Bins Separate bins for Glass, Recycling and General waste.
The Shed Home to everything you need to know about the campsite and the local area. It's also where you'll find firewood for your campfires.
Check out the facilities...
How to find us
Address
The Old Vicarage
Moulton St. Mary
Norwich
NR13 3NH
Directions Follow the A47 to Acle then follow signs to Reedham. We are 2 miles from Acle on the right hand side. Keep going until you spot the distinctive black and white cartwheels at the entrance.
Trains, Planes and Boats We offer a pick-up and drop-off service at Acle train station. Email us for details.
To those SatNav users...
Some campers have reported having trouble finding the site when following a Satnav. My advice is to stay on the A47 until you reach the town of Acle, even if your Satnav says otherwise! From Acle either follow the directions at the top of this page, or let the Satnav re-calculate and it should bring you straight to the site!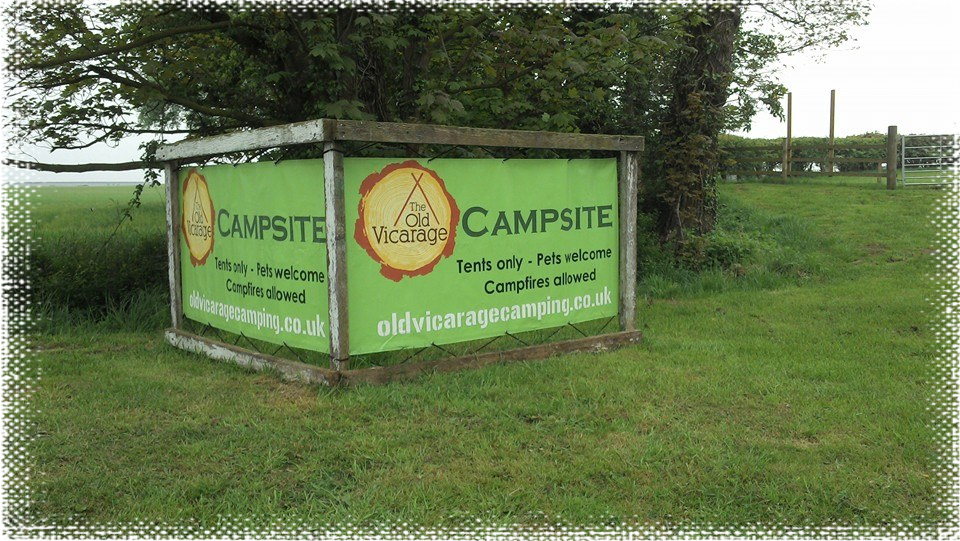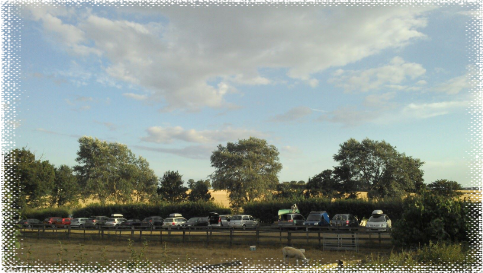 Arrive and Save!
Here are a few special offers for you!
On Foot Arrive on foot and get a free bucket of firewood.
By Bike Arrive on a bicycle and we'll give you your 3rd night free. We welcome all cyclists and, as cycling enthusiasts ourselves, we are always happy to talk bicycles, recommend local routes and help fix broken bits.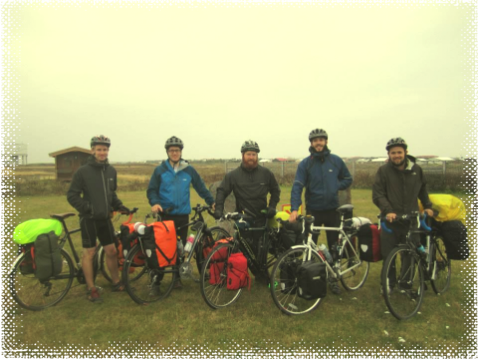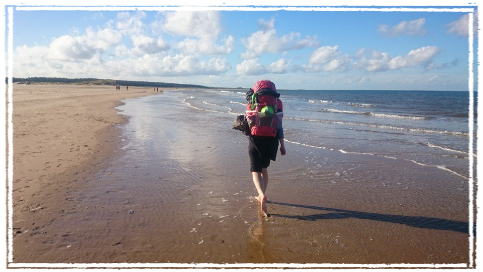 FAQ
Can I book over the phone?
No. Usually Bernie is either splitting wood, driving tractors or busy on the campsite, so he can't take down any booking details over the phone. Please use the online booking form or put it in an email and we will get back to you ASAP.
Arrival and departure times?
For camping there aren't any. Arrive when you get here and depart as you leave. However, if you've booked one of our bell tents the arrival time is 4pm and departure time is 10am (unless you've made prior arrangements with us).
Do I need to reserve a campfire/brazier?
No, we always have enough to go around.
We have a really really massive tent. Is there an extra charge?
No. We have lots of space so there is no limit on tent size.
Can we bring a gazebo/ pup tent/ cooking shelter etc?
Yes. There is no extra charge for extra tents.
We are holidaying with friends. Can we all camp together?
Yes. There is always room for groups to camp together, whether you book together or separately.
Can we bring our own firewood?
No, we only allow wood supplied by us to be burnt on the site. Our wood is very good quality, seasoned, and chopped to the perfect size to work with our braziers.
Do you provide dishwashing facilities?
Yes we do. Bring your own washing up liquid and scrubbers.
Where are the closest shops?
Acle (pronounced A-cul) is the nearest town and should have everything you need. There, you will find a Co-op supermarket, butchers, post office, newsagents, chemists, hardware store, petrol station, library and a health centre. They also have a market every Thursday and a farmers market on the 2nd Saturday of the month.
Turning right out of the campsite, follow the road for 2 miles and go straight on at the mini roundabout. There are some good walks to and from the town, including the 8 mile 'shoppers loop'.
We broke our tent/ forgot our tent pegs/tent/sleeping bags. Help!
If you have a tent emergency, firstly speak to Bernie. He keeps a supply of spare pegs, air bed pumps, repair poles and even spare tents.
If it's something more major, or you just fancy some new camping gear, we recommend Norwich Camping and Leisure. They have a large store selling all types of outdoor gear and camping equipment, a field of  display tents to explore and a cafe. Find out more at www.norwichcamping.co.uk
Places to Eat and Drink
If you want to eat in...
The Ferry, Stokesby, NR29 3EX Tel. 01493 751096 www.ferryinn.net
One of Bernie's favourites. A great riverside spot for meals outside on sunny evenings.
The Cafe, Moulton Nurseries, Moulton St. Mary Tel.01493 750458 www.moultonnurseries.co.uk
Just a short walk along the footpath from the campsite, a coffee shop serving breakfasts, afternoon teas, cakes and meals. Not open in the evenings.
For a little tipple...
The White Horse, Upton, NR13 6BT Tel. 01493 750696 whitehorseupton.com
Community owned pub, friendly atmosphere.
The Ferry, Reedham, NR13 3HA Tel. 01493 700429 www.reedhamferry.co.uk
Family Friendly riverside pub serving traditional pub grub.
The Ship, Reedham, NR13 3TQ Tel. 01493 700287
Local beers, Traditional pub grub.
The Cock Tavern, Cantley NR13 3JQ Tel. 01493 700895
Good meal offers through the week. Selection of local beers. Good for families or groups.
To take away...
Bay Leaf, 39 The Street, Brundall NR13 5AA Tel. 01603 712888 bayleafbrundall.co.uk
Excellent Indian food and friends of the Old Vicarage campsite. Restaurant and takeaway. Ask nicely and they will deliver to your pitch!
Acle Spice, The Street, Acle, NR13 3DY Tel. 01493 750800 aclespice.com
Indian Takeaway. Delivers to the campsite.
Full River, The Street, Acle, NR13 3DY Tel. 01493 750855
Exquisite Chinese, Peking and Cantonese food. Collection only. The Cantonese style sweet and sour dishes are a firm favourite.
Reedham Fish and Chip shop, 23a the Hills, Reedham NR13 3TN Tel. 01493 700706
Bernie's favourite chip shop but his dad think's they are too greasy. You decide! Eat your chips on the Reedham riverside for a traditional Moulton night out!
The Olive Tree, 23 Old Rd, Acle NR13 3QL Tel. 01493 750222
Pizza, Kebabs, Burgers and Chicken.